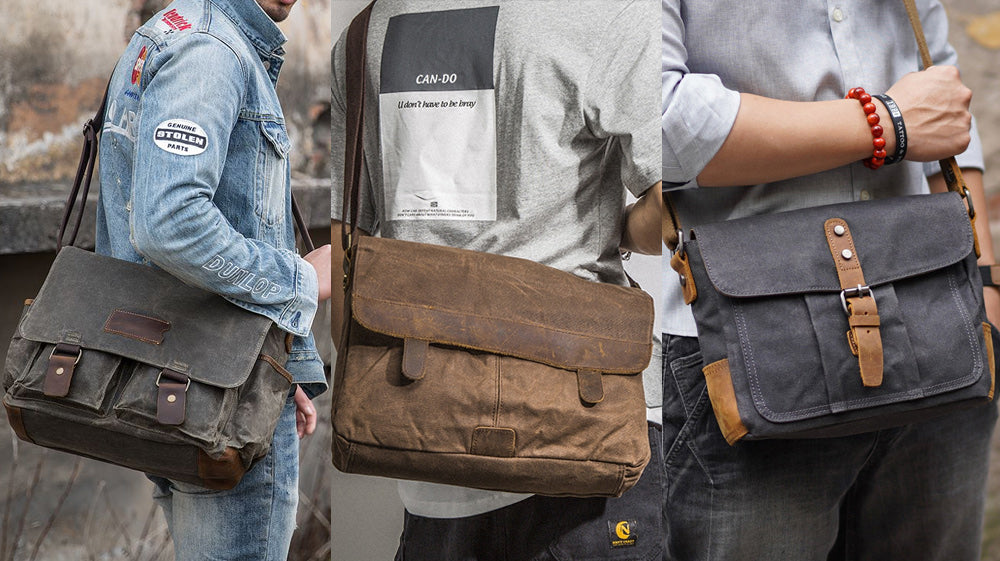 Waxed
canvas
is a thick woven cotton material that has been carefully drenched with wax. This provides an additional coating of security against things that might harm your bags, purses or outwear. This kind of cloth has been adored by many because of its longevity, dependability, genuine water resistance and fashionably jagged style. The waxed layer is composed of beeswax and marks folds and creases which gives a distinctive seasoned appearance as time passes by. Through wax, consistency of the yarn and density of the weave, waxed canvas character and durability is certain.
Waxed canvas is rather a water-resistant fabric than waterproof. Its resistance to water and moisture is one of its trustworthy qualities. However, if it is exposed to  water in an extended time, the material will get soaked. Bags and outwear that are made of waxed canvas can resist the penetration of water. Thus, making your valuable things securely dry.
One of the reasons why most people love waxed canvas
messenger bags
is its functionality. Aside from its fabric that is water resistant, its function varies depending on one's style, taste and/or needs. Because of waxed canvas messenger bags' diverse design and purpose, it has been a popular choice to many especially to men who also have different personalities and demands.
Waxed canvas messenger bags
can be carried in a day-to-day basis, an outdoor activity, a business trip or a quick get away. It can be used casually or formally. Due to its stylish flexibility, it is likeable by both people who are minimalist and lavish. Waxed canvas messenger bags are a must addition to your style, not just because it's a trend but also because of its advantageous purposes!
Now we are glad to show and recommend you our Best 26 Waxed Canvas Messenger Bags. We cannot wait for you to have yours as well! We hope that you find an amazing choice that will surely match your style! It will absolutely give you more confidence to carry your own trend.
Enjoy browsing!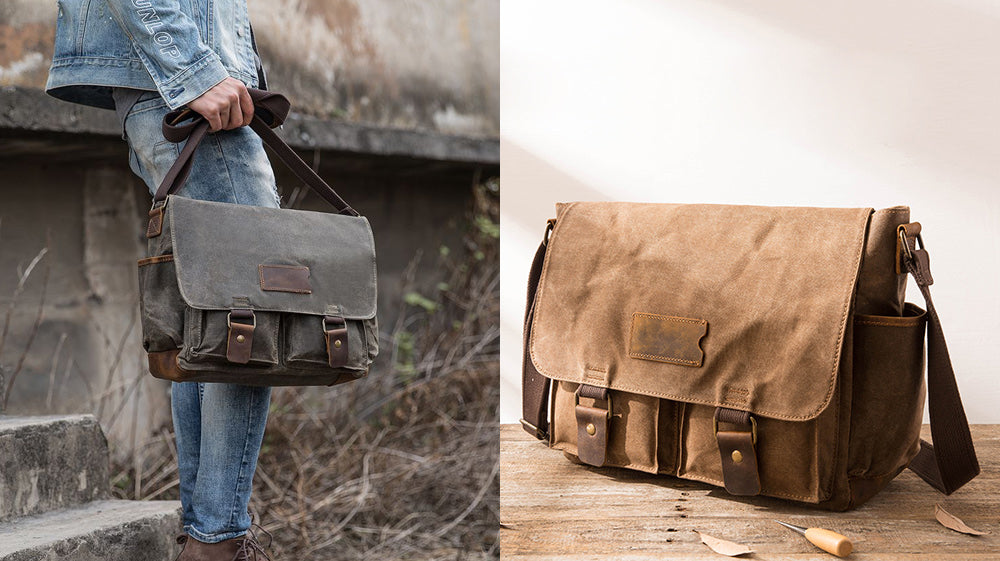 Are you someone who likes vintage as a fashion statement? Then, this messenger bag is definitely for you! The character of this bag comes with a weathered pattern design that will be surely loved by men. It can be worn on an ordinary day or during a trip. This waxed canvas messenger bag has three colors available- gray, green and coffee. It measures 41cm x 31cm x 12cm in size. It has one main pocket. It also has space for a 14-inches laptop, 1 cigarette pocket, 1 pad/tablet pocket. It has 2 zippered pockets, 2 smaller pockets for phone or wallet, 2 side pockets and a leather keyring. This waxed canvas messenger bag is not only an essential addition to your style but is also multi-function. It is suitably best for office people who want to remain casual everyday.
This cool waxed canvas messenger bag is distinctive in different aspects, from its design to its fabric and color. It is equipped with different functions that would surely fit your purpose. It can be used for both outdoor and indoor activities. Four colors are available- green, tan, gray and black. It has the size of 35cm x 27cm x 11cm. It would certainly keep your belongings in place and secure as it has 1 main slot, a place for a 14-inches laptop, one space for phone and another for wallet, one pocket with zipper and 2 side smaller pouches. You can really enjoy going out without worrying about your stuff!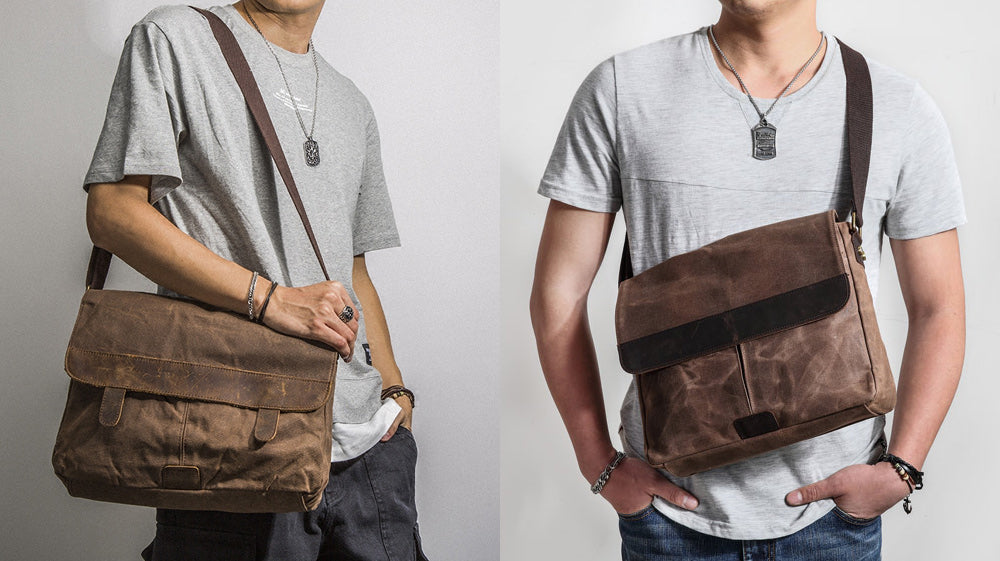 Because of this bag's dapper details and style, it is adored my most men. It's the kind of bag that would let you style and go at the same time. Its color has a vintage-look that makes people look more rugged. If you're into jagged fashion and wear, then this is the perfect waxed canvas messenger bag for you. It comes in two different styles- depending on your choice. The first design has a think dark brown stripe in front (that measures 35cm x 28cm x 8cm) while the other is simpler in color and in style (which has a measurement of 32cm x 25cm x 8cm). It has one main slot for your stuff, a 13 inches slot for your laptop, one cigarette slot, a separate pocket for your phone, a slot with a zipper, 2 side pockets and a keyring.
Not all messenger bags can look casually formal. This one is typically unusual from the others as you can use it in both formal and ordinary occasions. It highlights sustainability which is evident in its fabric and design. It is popular among college students. As a matter of fact, this can be used by all ages as well. This waxed canvas bag is available in two colors and is equipped with a detachable shoulder strap. Thus, it can be used both as a handbag or a briefcase. It measures 40cm x 32cm x 8cm, so it's quite big. Because of its size, it does a lot of functions and has different slots for everything. If you like carrying your laptop around with ease, then a 15.6" laptop fits in this bag. It also has some extra space for phone and wallet separately. It also comes with a zipper slot and 2 smaller pouches on both sides.
17. Small Square Waxed Canvas Leather Messenger Bag, Mens Waxed Canvas Shoulder Bag, Green Waxed Canvas Satchels,